What is a bungalow?
Actually the answer is pretty simple, the single defining character of a bungalow is that it is a single story home or cottage.  Occasionally it is 1.5 stories with loft space available in the attic.  Bungalows are pretty common, if you grew up in the Midwest chances are pretty good you grew up in a Craftsman bungalow.  You can walk out your front door and look up and down the street and see a bungalow.  Since bungalows have no stairs connecting different floors they are often homes for people with disabilities, or elderly people.  Streets lined with bungalows offer more privacy between neighbors.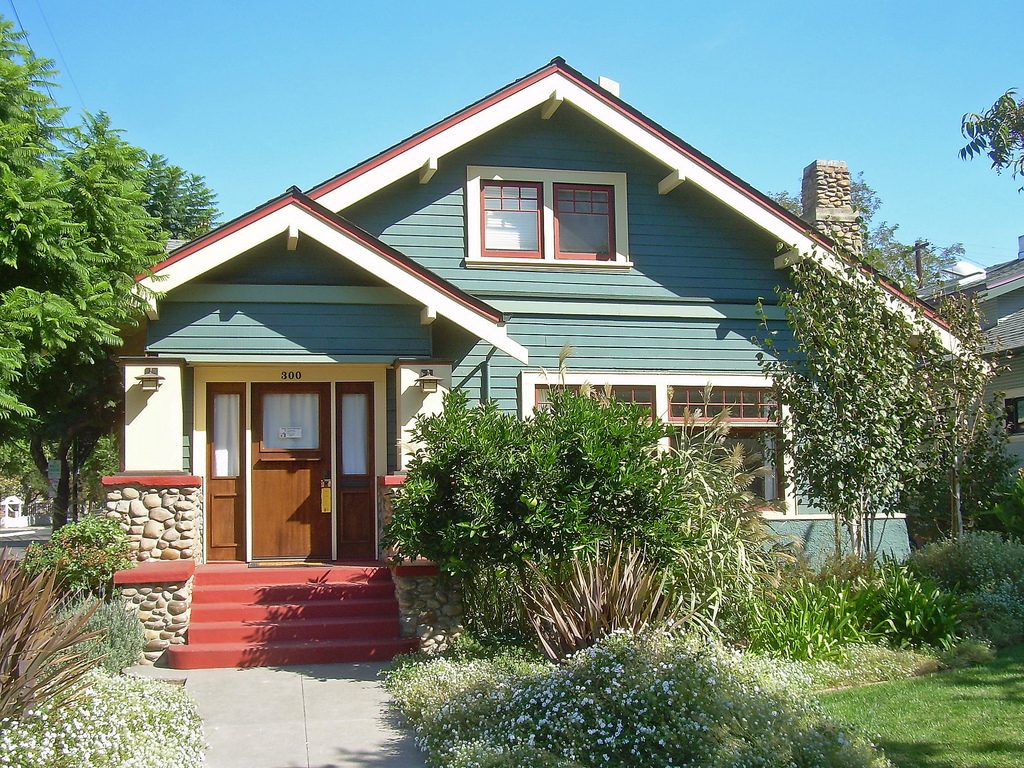 Cost and Space
Construction of a bungalow is more expensive than traditional two-story house.  To have equal amounts of living space a bungalow requires a larger foundation be poured along with a bigger roof.  A larger foundation means a larger lot and that in turn has led to urban sprawl.
In today's economy and square footage being at a premium in larger metropolitan areas new construction of bungalows is on the decline.  Bungalows are virtually unheard of when new housing developments are planned, but bungalows still represents roughly half the sales of preexisting homes. In larger urban areas older bungalows are sold for the lot space and promptly torn down to make way for new construction.
American Craftsman Bungalow
When the Arts and Crafts movement came along in the late 19th century, bungalows began to adapt to the Craftsman style.  Common features of a Craftsman bungalow included low pitch roofs with a gable or hipped roof, exposed rafters or decorative brackets under the eaves and often with a front porch extension of the roof.  At the turn of the century bungalows were sold by mail order as "kit homes", sold by two companies in the US Sears and The Aladdin Company.  You can view the entire catalogue of The Aladdin Company at the Clarke Historical Library.
As the Arts and Crafts movement took hold and more and more Craftsman bungalows were being designed and built, slight differences in architecture and design were evolving across the country.  Different styles evolved because of other influences on the Craftsman style and the materials used in construction in differing parts of the country.
California Bungalow
Construction of bungalows in California became hugely popular in the early part of the 20th century, from 1910 thru to 1939.  Some neighborhoods in Southern California; Belmont Heights, Riverside and Highland Park all having large concentrations of bungalow construction.
The California Craftsman bungalow differed from other styles around the country in that the framing and accent wood was often done with redwood, native to California.  The roofs were often made with terra cotta tile instead of the shingled roofs you'd find in the midwest.  The architectural style in California was also influenced by Spanish Colonial and Mission Revival styles.  Real estate markets in California are seeing a resurgence in interest in the Craftsman bungalows, with prices in some communities reaching $700, 000 for a 3 bedroom bungalow.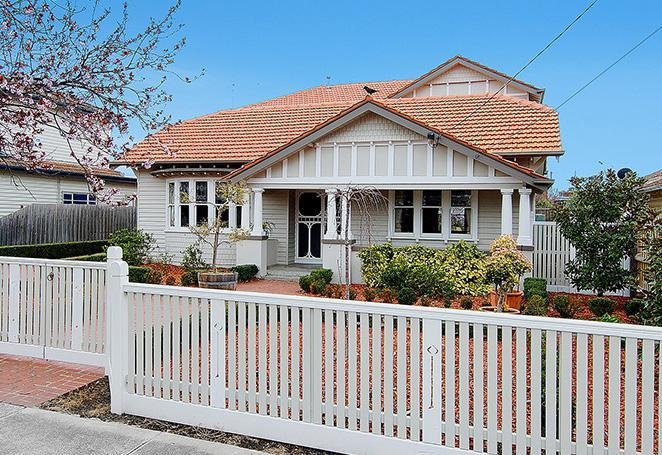 Chicago Craftsman Bungalow
Chicago has more than 80,000 bungalows with the majority of them being built between 1910 and 1940.  The bungalow comprises almost a third of the single family homes in the city.  Chicago bungalows differ from other styles around the country in a couple of ways.  Most are built with brick with stone accents and the gables are parallel to the street instead of perpendicular.  Where California bungalows tend to be sprawling the Chicago bungalow is long and narrow, 20 feet across, the standard city lots are only 24-25 feet wide.  The front porch oftentimes partially if not fully enclosed, the porch was used to extend the interior space.  Chicago bungalows are still single story but most have fully finished basements.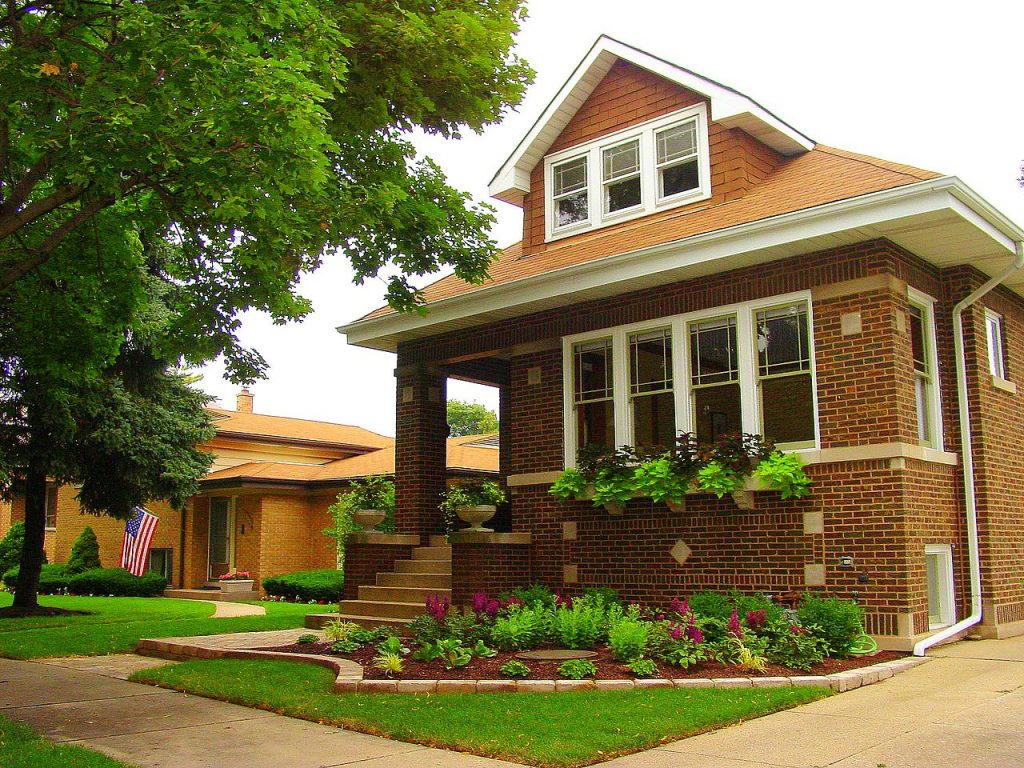 Other Regions
Both Detroit, Michigan and Milwaukee, Wisconsin have large numbers of bungalows that were built as the cities were growing in the early 20th century.  Bungalows make up a large portion of the historic homes in both cities.  They were closest in style to the Chicago style and built with local materials.  Unfortunately many of them in Detroit have been abandoned or are being torn down.
The Interior
Craftsman style floor plans often feature open concept design, with the living room and dining room all in one large space.  Often these bungalows were on deep and narrow lots, like the Chicago style bungalows, so the "public" rooms often faced the street.  Many of these homes featured a fireplace as the focal point of the living room surrounded by high windows or built in cabinetry.
Built in cabinetry and bookcases along with exposed beams, joists are characteristic of a Craftsman home.  Kitchens are often small and compact with built in breakfast nooks.  Bedrooms too were of often small and the master bedroom wasn't part of the original Craftsman bungalows, it came much later with newer construction and changes in design.  Furniture and wall color should match the style of the home, with classic pieces and earth tones.  You can find more information on how to decorate your Craftsman Bungalow here.